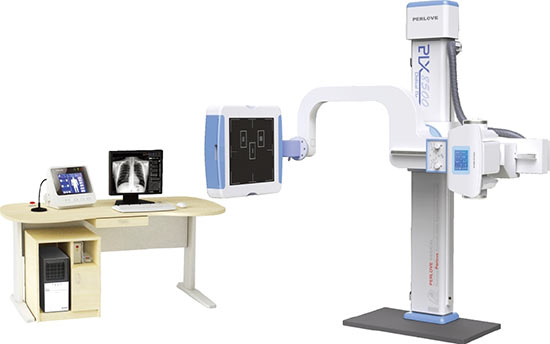 IMAX 8500
High Frequency Digital Radiography System
The high imaging output of 55 kW and 65kW allows short- time radiography, virtually eliminating any motion blurring.
Flexible mechanical design ensures the intelligent, friendly and convenient operation.
Powerful network functions satisfy the requirementsfor all levels of hospitals.
Specification
Power Output - 55/65kW
Inverter Frequency - 60kHz
Tube Voltage - 40-150kV
Power Supply - 380V,50/60Hz
Dual-focus: small focus: 0.6, large focus: 1.2
Digital Detector - CCD detector
High Frequency Digital Radiography System
High capacity X-ray monoblock and perfect digital imaging process technology provide the HD image.
Large digital CCD-detector satisfies the photography requirements for various body parts.
Multi-control method, include close table control, hand controller and workstation control.
Full motorized movement controller easy and accurate positioning.
APR intelligent design and best parameter setting make operation easily.
Specification
Output power 26kW
Inverter Frequency 60kHz
Dual-focus Small focus:0.6 Large focus: 1.3
Tube Voltage 40-130kV
Tube Current 200mA
Digital Detector CCD detector